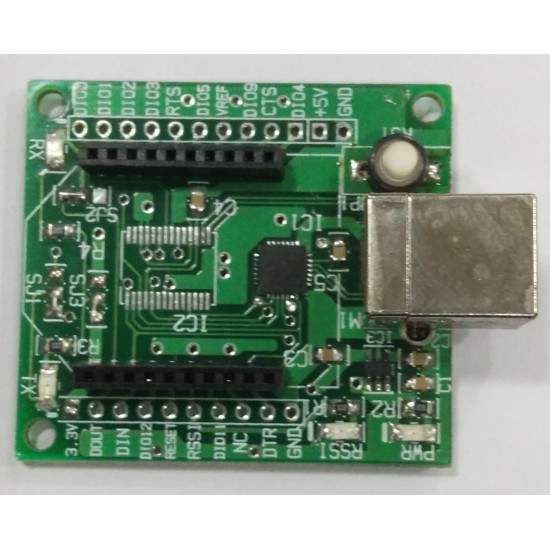 XBee Zigbee BTBee Explorer USB Board
This low cost USB Adapter Board provides a cost-effective solution to interfacing a PC or microcontroller to any XBee or XBee Pro, Zigbee or Zigbee Pro and bBee Bluetooth module.
Digi's X-CTU software can be used to confirgure the xBee and Zigbee Modules.
By using this adapter board you can provide an easy interface to the XBee/Zigbee/bBee modules by converting the 2mm pin spacing to breadboard friendly 0.100" spacing.

Features:
Power booster makes this interface suitable for all types of modules.

Provides an easy interface to configure XBee/Zigbee Modules using Digi's X-CTU software

Converts XBee 2mm pin spacing to 0.100" pin spacing

3 status indicator LEDs for Power, TX, RX


Provides easy pluggable wire or solder connections

Pin-out compatible with our other XBee Adapter boards

Reset button
3.3V and 5V dual power output
3.3V and 5V IO compatible
USB 2.0 protocol
Associated Modules:
XBee 1mW Chip Antenna (XB24-ACI-001)

XBee 1mW Wire Antenna (XB24-AWI-001)

XBee Pro 60mW Chip Antenna (XBP24-ACI-001)

XBee Pro 60mW Wire Antenna (XBP24-AWI-001)

bBee Bluetooth Module

xBee WIFI Module
Key Specifications:
Power requirements: 5.0V from USB or VDD pin, 3.3V generated on-board

Communication: Serial pass-through to XBee/Zigbee/bBee module/USB to Host PC
* Product design may vary
Stock:

In Stock

Model:

XUAB

Weight:

0.45kg