This 3-Axis Gyroscope module provides separate data values for yaw, pitch, and roll. Motion is indicated as a positive or negative value, depending on the direction of rotation. The sensor is useful in 3D simulation, virtual gaming input devices, robotics, and for remotely controlled or unpiloted aircraft and submersibles.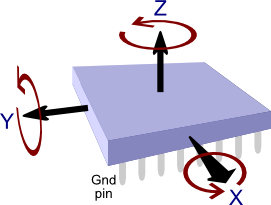 The Gyroscope Module is a low power 3-axis angular rate sensor featuring temperature data as an added bonus - for temperature drift compensation.
Raw measured angular rate and temperature data are accessed from the selectable digital interface (I2C or SPI). The module features a small package design and has an easy to access SIP interface with a mounting hole for quick connectivity to your projects. It is designed for use with a large variety of microcontrollers with different voltage requirements.
Features:
3-Axis angular rate sensor (yaw, pitch, and roll)

Supports I2C and SPI communications

Three selectable scales: 250/500/2000 degrees/sec (dps)

High shock survivability

Embedded temperature sensor -40 to +185 °F (-40 to + 85 °C)

Embedded power-down and sleep mode

16 bit-rate value data output

8-bit temperature data output
Application Ideas:
Gaming

3D motion control

Virtual reality input devices

Robotics

UAV, IMU systems
Key Specifications:
Power Requirements: 2.7 to 6.5 VDC

Communication Interface: I2C (up to 400 kHz) or SPI (10 MHz; 4 & 3 wire)

Operating temperature: -40 to +185 °F (-40 to +85 °C)

Dimensions: 0.85 X 0.80 in (2.16 X 2.03 cm)
Basic Wiring: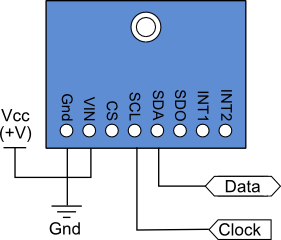 Connecting Arduino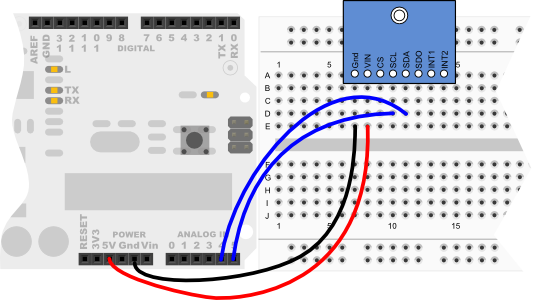 For More Information
Downloads & Resources

Arduino sample code (provided on purchase)
Parallax Gyroscope L3G4200D 3-Axis Module
Product Code: 27911
Availability: In Stock
Related Products