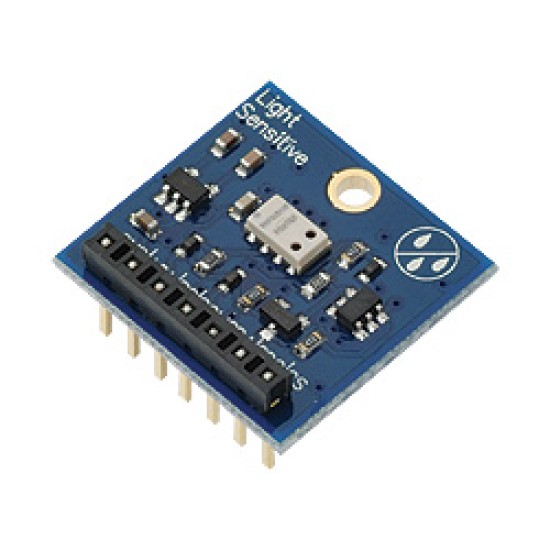 Out Of Stock
Parallax USA Altimeter Module MS5607 UAV RCDI
Applications include Mobile altimeter / barometer systems, Rate of Climb and Descent Indicator (RCDI), High altitude balloons, Height sensing, Navigation, Weather station, Altitude hold for UAVs, IMU builds, rocketry, unpiloted aircraft, remotely operated vehicles, robotics, air pressure and changes in temperature.
Successfully tested at 1,20,000 feet. The Altimeter Module is a high resolution (20 cm) altimeter sensor with SPI and I2C bus interface. It will give extremely accurate, altitude, pressure, and temperature readings.
The Altimeter module combines highly sensitive pressure and temperature sensors. While it's called an Altimeter module, the sensor is useful for many more applications. By correlating the data from these two sensors it's possible to determine barometric pressure, altitude, changes in height, rate of climb and descent, and other useful information.
The module includes a high linearity barometric pressure sensor and a high resolution temperature output, allowing implementation of an altimeter/thermometer without any additional sensors. Different operation modes allow the user to optimize for conversion speed or current consumption. The module is designed for use with a large variety of microcontrollers with different voltage requirements.
Features:
High resolution 20 cm or altitude

Thermometer of -40 to +85 °C with <.01 °C resolution

Pressure range of 10–1200 mbar

Supports I²C and SPI communications

24-bit pressure and temperature values

Successfully tested at 1,20,000 feet

Wide pressure range
Application Ideas:
Mobile altimeter / barometer systems

Rate of climb and descent Indicator (RCDI)

Height sensing

Navigation

Weather station

Altitude hold for UAVs

IMU builds
Key Specification:
Power Requirements: 3.3 to 6.5 VDC

Current Consumption: ~1.74 mA @ 3.3 VDC
Communication Interface: I2C (up to 400 kHz) or SPI (20 MHz)

Operating temperature: -40 to +185 °F (-40 to +85 °C)

Dimensions: 0.85 X 0.80 in (2.16 X 2.03 cm)
For More Information
Stock:

Out Of Stock

Model:

MS5607

Weight:

0.25kg