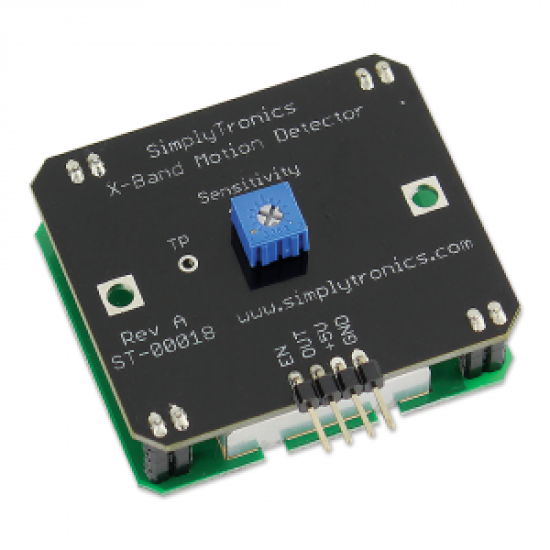 Parallax X-Band Motion Detector Microwave Doppler Radar Module
The X-Band Motion Detector's sensor is a common component in security systems and automatic door openers and can detect movements within a room, yard, or even on the other side of a wall.
The X-Band Motion Detector operates in the X-band frequency, at 10.525 GHz and indicates detected movements with oscillations in its high/low output.
Sensitivity is manually adjustable with a potentiometer, offering direct line of sight detection from roughly 8 to slightly over 30 ft (~2.4 to 9+ m).
Key Features:
Trim potentiometer for manually adjustable sensitivity

4-Pin SIP header for breadboard or through-hole prototyping

Built-in series resistor for compatibility with the microcontroller and other 3.3 V devices

Plated test point hole for monitoring pre-comparator signal

Operation frequency of 10.525 GHz

Able to detect motion through walls and windows

More immune to false triggers than passive infrared motion sensors

Active-high enable pin with internal pull-up resistor

Power supply requirements: regulated 5 VDC, 8 mA

Communication: High (3.9 V) / low (0 V) signal oscillates with motion

Dimensions: 1.8 x 1.75 x 0.75 in (46 x 45 x 19 mm)

Operating temp range: +32 to +131 °F (0 to +55 °C)
Application Ideas:
Security systems

Automatic door openers

Automatic lighting

Nuisance animal deterrence
Stock:

In Stock

Model:

ST-00018

Weight:

0.25kg