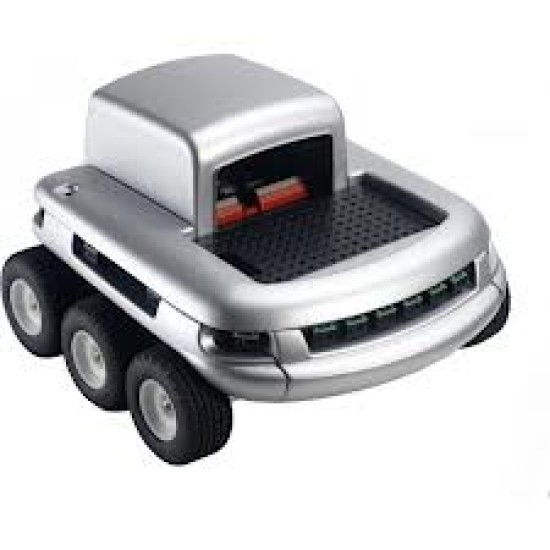 Free Price/Order on Request
Koala 2.5 Research Robot
Koala is a mid-size robot designed for real-world applications. Bigger than Khepera, more powerful, and capable of carrying larger accessories, Koala has the functionality necessary for use in practical applications (like navigation, mapping, artificial intelligent,…), rides on 6 wheels for indoor or outdoor all-terrain operation, with a sports stylish bodywork for attractive demonstrations.
Easy to use, the Koala base robot can be programmed using the GNU C environment or remote controlled using the K-Team serial protocol. We deliver a complete library, so the user can focus on the algorithm. The library is open and can be modified, allowing a high customization for the customer.
To facilitate the programming of the robot, we support several development environments, from standard cross-C developments to more sophisticated tools like LabVIEW® , MATLAB® or SysQuake. Please note however that this software is just a suggestion and not at all needed to use the robot. Any other programming environment capable of communicating over a serial port can also be used. The communication protocol implemented on Koala is described in the user manual.
Koala and its modules have the following very interesting features:
Compact (30 x 30 cm)
Indoor or outdoor use
Powerful Embedded Computing Power running on Linux Ubuntu
Easy to use by the connection to very standard and well known tools or using the existing Library
High modularity in order to fit to a large number of needs. Compatible with any USB, Ethernet or Serial devices.
Multiple sensor arrays
Swappable battery pack, docking ready
High quality and high accuracy DC motors and gearbox
Various fixation points for extensions
Possible Applications
Telemanipulation
Mapping, Path planning and navigation study
Object research and recognition
Surveillance
Object transport
Tour Guide
Advanced Electronics demonstration
Artificial intelligence study
ELEMENTS

TECHNICAL INFORMATION

Processor

Embedded PicoITX mainboard running Linux on Dual Core Intel Atom N2800 1.86GHz with Hyper Threading

RAM

4 GB

Memory

40 GB of SSD

Motion

2 DC brushed motors with incremental encoders

Speed

Max: 0.6 m/s (open loop), and 0.5 m/s using factory default PID speed controller Min: 0.011 m/s using factory default speed controller

Sensors

9x Ultrasonic sensors for navigation

3-axis accelerometer

3-axis gyroscope

3-axis magnetometer

Navigation

Onboard GPS

Power

Swappable battery pack LiPo 5Ah@11.1V

Autonomy

3 to 4 hours

I/O

1x VGA connector

1x Microphone in

1x Line out

1x I2C (3.3V)

4x Power open drain output (max. 30V)

4x Input / Output (0 – 3.3V). Can be configured to manage a servo motor (PWM)

2x Analog Input (0 – 3.3V)

Available voltage

3.3V – 1.85A

5V – 1.85A

12V – 3A direct from the battery

Autonomy

2 to 4 hours, depending of battery type and motor use

Docking

Ready for docking, 15 V in and I2C communication

Communication

2x USB 2.0 ports, 500mA

1x serial port

1x Ethernet 10/100/1000

Size

Length : 32 cm

Width : 32 cm

Height : 14.5 cm

Clearance

21 mm

Turn Radius

0 cm

Maximum Slope Traversal

43 degrees

Weight

Approx 4.5 kg

Payload

Approx 3.5 kg

Operating temperature

0°C to 50°C

Development Environment for Autonomous Application

GNU C/C++ compiler
Stock:

Price/Order on Request

Model:

Koala2.5

Weight:

5.00kg