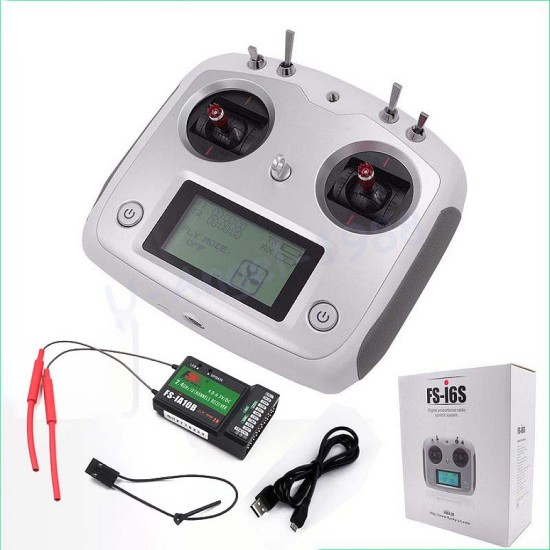 New
Flysky FS-i6S 2.4GHz 10 Channel AFHDS 2A RC Transmitter With FS-iA10B 10 Channel Receiver
Flysky FS-i6S 2.4GHz 10 Channel AFHDS 2A RC Transmitter With FS-iA10B 10 Channel Receiver

The AFHDS 2A (Automatic Frequency Hopping Digital System Second Generation) developed and patented by Flysky is specially developed for all radio control models. Offering superior protection against interference while maintaining lower power consumption and high reliable receiver sensitivity, Flyskys AFHDS technology is considered to be one of the leaders in the RC market today. It has Full touchscreen interface, more convenient to control.
Features:

Bidirectional Communication :
Capable of sending and receiving data, each transmitter is capable of receiving data from temperature, altitude and many other types of sensors, servo calibration, and i-BUS Support.
Multi-channel Hopping Frequency :
The bandwidth of This system ranges from 2.4055GHz to 2.475GHz. This band is divided in 140 channels. Each transmitter hops between 16 channels (32 for Japanese and Korean versions) in order to reduce interference from other transmitters.
Omni-directional Gain Antenna :
The high efficiency Omni-directional high gain antenna cuts down on interference while using less power and maintaining a strong reliable connection.
Unique ID Recognition System :
Each transmitter and receiver has its own unique ID. Once the transmitter and receiver have been paired,they will only communicate with each other, preventing other systems accidentally connecting to or interfering with the systems operation.
Low Power Consumption :
The system is built using highly sensitive low power consumption components, maintaining high receiver sensitivity, while consuming as little as one-tenth the power of a standard FM system, dramatically extending battery life.
New Firmware Features :
New(Trims) function
New (Rate/Exp.) function
New(Throttle curve) function
NEW(Throttle mode) function
New(models) function, supports 5 modes groups.
New Context-aware reset function.
New low signal alarm function.
Specifications:
Channel 10
Frequency 2.4055 – 2.475GHz
Band Number 140
Receiver Sensitivity 105dbm
2.4G Mode AFHDS 2A
Modulation System GFSK
Input Voltage 4.0V-6.5V DC
Antenna Length 26mm (dual antenna)
Dimension47*26.2*15mm
Certification CE0678,FCC
Package Includes :
1 x Flysky FS-i6S 2.4GHz 10CH AFHDS 2A RC Touch Control Transmitter.
1 x FS-iA10B 2.4GHz 10CH Receiver.
1 x USB to Micro pin (male).
1 x User Manual.
This Kit does not Include Mobile/Tablet Holder
Stock:

1

Model:

FSI6S-10CH

Weight:

1.50kg