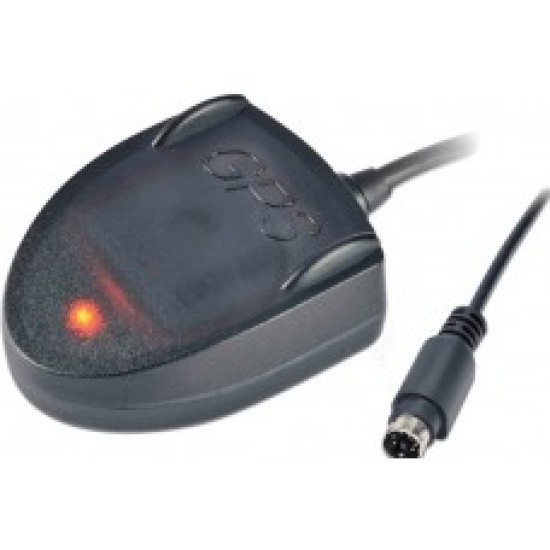 Out Of Stock
GMouse Mini GPS PS2 RS232 Receiver
The Mini Gmouse GPS Receiver(RS232) is a low cost High sensitivity GPS module + Internal Antenna with PS2 Style connector. It is a Stand alone GPS receiver providing a solution that high position and speed accuracy performances as well as high sensitivity and tracking capabilities in urban conditions .Just Power the module with 5V.
Mini Gmouse does not support PS2 protocol and supports only RS232 logic level. PS2 connector is used for powering Gmouse and for getting data in PS2 data line.You will need one PS2 to RS232 connector for interfacing Mini Gmouse with PC. you will get GPS data in Standard NMEA Protocol format (NMEA 0183).The Mini Gmouse contain magnetic plate which help you to place the Gmouse on the car roof,boot roof or any metal plates to get the clear view of the sky. It has a very compact and easy to integrate design with the ultimate tracking performances. It is also ideal for those who wish to plug-and-play GPS receiver module into their small form factor design. It can be directly connected to Microcontroller's UART.
The GPS chipsets inside the module are designed by MediaTek Inc., which is the world's leading digital media solution provider and largest fab-less IC company in Taiwan. The module can support up to 66 channels. The GPS solution enables small form factor devices. They deliver major advancements in GPS performances, accuracy, integration, computing power and flexibility. They are designed to simplify the embedded system integration process.
To determine the location of the GPS satellites two types of data are required by the GPS receiver: the almanac and the ephemeris. This data is continuously transmitted by the GPS satellites and your GPS receiver collects and stores this data.The data received is just ASCII text and varies in precision. Every sentence begins with a '$' sign, has about 80 characters and ends up with a carriage return/line feed sequence. Sentences are mostly framed in single lines (may run over to multiple lines sometimes) and the data items in each sentence are separated by commas.As the module provides current time, date, latitude, longitude, speed, altitude and travel direction / heading among other data, so it can be used in a host of applications, including navigation, tracking systems, fleet management, mapping and robotics.
Asynchronous RS232 serial interface : 9600bps

Standard NMEA0183 Protocol format

Single +5VDC supply @ 60mA (typical)

Standard PS2 interface .

Cable Length : 2M

L1 frequency, C/A code, 66-channel

Embedded LNA and SAW filter

High sensitivity : Up to -165dBm tracking, superior urban performance1

Position accuracy : < 3m CEP (50%) without SA (horizontal)

Cold Start is Under 35 seconds (Typical)

Warm Start is Under 34 seconds (Typical)

Low power consumption : 48mA@ acquisition, 38mA@ tracking

DGPS(WAAS, EGNOS, MSAS) support (optional by firmware)

Update rate : 1Hz (Default)
Stock:

Out Of Stock

Model:

Gmouse

Weight:

0.25kg