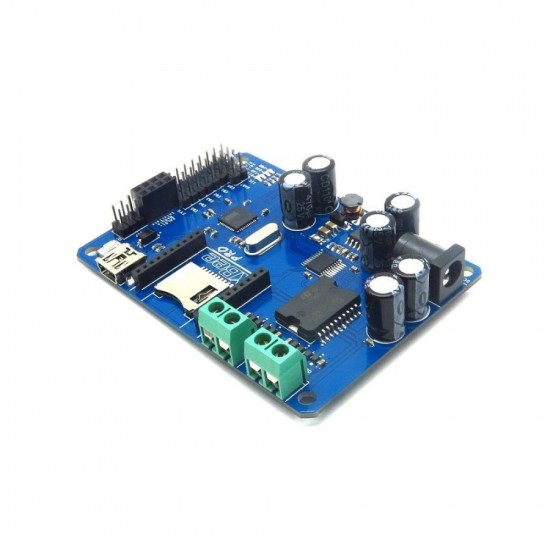 New
RoboticsCorner Itead MBoard - Arduino with Motor Controller and wireless interface
MBoard is a unique Arduino board which features onboard L298P motor driver to control 2/4 motors for wheeled robot , an XBee socket interface to connect xbee module for wireless communication, its also nRF24L01+ module interface for additional wireless option, Micro SD socket and an ATMega32U4.
The bootloader of Mboard is based on Arduino Leonardo.
With motor driver chip L298P, this board can drive the DC motor directly and stepper motor with software IO control.
This board will add wireless as well as motor control connectivity to your projects.
It's great for anything from home automation to robot control. The possibilities are endless!
Nrf24l01 module , xbee module, micro SD card (to be purchased separately, if required)
Specification
PCB size 80.77mm X 57.66mm X 1.6mm
Power supply 7~12V DC
Indicators PWR, Tx, Rx, D13
Communication Interface XBee, nRF24L01+, UART, IIC
Mboard can drive DC motors at the same time. OUT1/OUT2 is completely symmetrical as OUT3/OUT4 on the board.

DC motor input has three pins, In1, In2 and EnA. In1 and In2 are digital ports which are used to control the direction of the motors,
EnA is connecting with PWM port of control board to control the speed of motor.

And Mboard can also control 4-wire stepper motor the same way as two DC motors with the signals from EnA,In1,In2 and EnB,In3,In4

Stock:

5

Model:

MBoard

Weight:

0.15kg