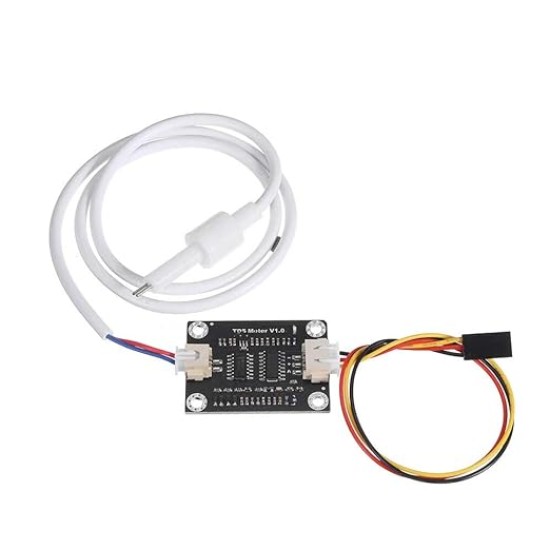 New
TDS Water Sensor Module for Water Quality
Analog TDS Water Sensor Module for Water Quality detects the Total Dissolved Solids (TDS) levels in the water which can be used to indicate the water quality. The TDS Sensor can be applied in water quality applications such as TDS meter, drinking or potable water, well water, aquarium, hydroponics, etc.
The ideal TDS level for drinking water is between 50-300 ppm (parts per million). Less than 50 is not acceptable for drinking as it lack essential minerals and high levels may lead to number of health problems.
These analog TDS sensor kits are compatible with Arduino, plug & play, and easy to use. Matching with an Arduino controller, you can build a TDS detector easily to measure the TDS value of liquid.
This product supports 3.3 ~ 5.5V wide voltage input, and 0 ~ 2.3V analog voltage output, which makes it compatible with a 5V or 3.3V control system or board. The excitation source is an AC signal, which can effectively prevent the probe from polarization and prolong the life of the probe, meanwhile, increasing the stability of the output signal. The TDS probe is waterproof, it can be immersed in water for a long time measurement.

Features:

Wide voltage operation: 3.3~5.5V

0~2.3V analog signal output, compatible with 5V, 3.3V two control systems
The excitation source is an AC signal, effectively preventing probe polarization
Waterproof probe for long-term immersion in water
Arduino compatible, easy to connect, plug and play, no soldering required
Specifications:
Input voltage: 3.3~5.5V

Output signal: 0~2.3V
Working current: 3~6mA
TDS measurement range: 0~1000ppm
TDS measurement accuracy: ±10% F.S. (25°C)
Size: 42*32mm
Module interface: XH2.54-3P
Electrode interface: XH2.54-2P
Stock:

1

Model:

TDS

Weight:

0.20kg